Claire Adida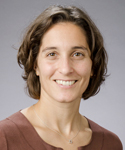 Assistant Professor of Political Science, UC San Diego
Biography
Claire Adida is an assistant professor in the Department of Political Science at UC San Diego, as well as a faculty affiliate with the Policy Design and Evaluation Lab (PDEL) and the Center for Comparative Immigration Studies (CCIS). Her research is in comparative politics: more specifically in the study of identity, immigration and inter-group cooperation and conflict.
Her work has been published in Comparative Political Studies, the Proceedings of the National Academy of Sciences, Economics and Politics, the Journal of Population Economics, and Cambridge University Press. Forthcoming work will be presented in the Journal of Experimental Political Science, Economic Inquiry, Annals of Economics and Statistics, and Harvard University Press.
Current research projects include understanding how African leaders play the "ethnic card" to garner support from non-coethnics, investigating when and how legislator performance-information affects electoral behavior and explaining U.S. attitudes toward immigration in light of the Ebola crisis.
She received her Ph.D. in political science from Stanford University in 2010.
Research Interests
comparative politics
ethnicity
identity
inter-group cooperation