Mobile Money, Schooling, and the Poor
In the 2018 PDEL Innovations workshop, three global leaders looked at the challenges of mobile money implementation in Benin, West Africa and the relationships between technology architecture, institutions and human behavior. Full story.
---
Uganda Markets Project Receives Additional Funding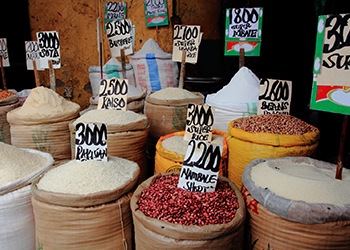 The ongoing "Building Market Linkages" evaluation in Uganda has been working to create and rigorously evaluate an entirely new ICT-based market structure. The Agricultural Technology Adoption Initiative (ATAI) recently awarded a top-up grant to researchers Craig McIntosh and Lauren Falcao Bergquist to complete a final round of data collection for this evaluation, which spans 12 percent of the surface area of Uganda. 
---
Our Mission
The Policy Design and Evaluation Lab combines advanced social science methodology with the power of information technology to design policies and programs that:
alleviate poverty;
promote health, welfare and security; and
enhance accountability.
PDEL's Key Research Sectors