Randomized Control Trials in Action in Rwanda
In the paper Benchmarking a Child Nutrition Program Against Cash: Experimental Evidence from Rwanda," Andrew Zeitlin and Craig McIntosh present the results of a groundbreaking evaluation that benchmarks a major USAID-funded child malnutrition program against what would have happened if the cost of the program had been disbursed directly to beneficiaries.
The study has received much attention, although the authors caution against coming to the conclusion that cash is a better solution. Instead, they characterize their main takeaway as the realization that "different means of spending program resources generate fundamentally different types of benefits, and with a more nuanced understanding of these differences we can design programs that are better tailored to deliver specific impacts." Additional takeaways are presented in their guest essay on the World Banks' Development Impact blog. 


Uganda Markets Project Receives Additional Funding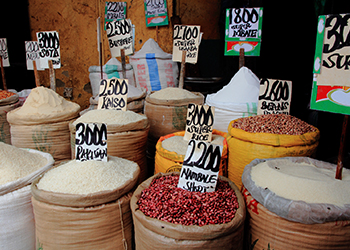 The ongoing "Building Market Linkages" evaluation in Uganda has been working to create and rigorously evaluate an entirely new ICT-based market structure. The Agricultural Technology Adoption Initiative (ATAI) recently awarded a top-up grant to researchers Craig McIntosh and Lauren Falcao Bergquist to complete a final round of data collection for this evaluation, which spans 12 percent of the surface area of Uganda. 
---
Our Mission
The Policy Design and Evaluation Lab combines advanced social science methodology with the power of information technology to design policies and programs that:
alleviate poverty;
promote health, welfare and security; and
enhance accountability.
PDEL's Key Research Sectors