Voter Perceptions of Muslim-American Candidates
Student Researcher: Nazita Lajevardi
Location: United States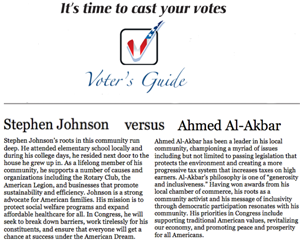 How do race and religion interact in candidate evaluation? Few would argue that the race of a political candidate has not mattered for voter evaluation throughout American history. Early studies found that White voters were reluctant to support Black candidates, and more recent studies have found that Latino candidates also suffer a penalty at the hands of White voters. While studies have explored whether this is a race or party effect, the underrepresentation of racial minorities in institutions has important consequences for their positioning in American democracy.
The election of Barack Obama, the questioning of his religious identity, and the purchase of the birther movement, raises important questions about the evaluation of a previously unexplored group: Muslim Americans. Little information exists on how the public assesses and treats Muslim candidates for political office.
Two candidate evaluation survey experiments varying the party, race, and religion of fictional candidates in a primary election were employed to answer the question: Do individual Americans demonstrate discriminatory behavior against Muslim American candidates relative to Whites?" 

Nazita Lajevardi is now an assistant professor of political science at Michigan State University. 
In Democratic primaries, respondents are significantly less likely to vote for the Muslim American as opposed to the White candidate. In Republican primaries, however, Muslim American candidates were not statistically disadvantaged compared to their White counterparts.
A robustness experiment to tease out the effect of a candidate's Muslim identity (communicated through their name) and their racial identity (communicated through their picture) was run on a national sample of Americans. Results indicate that it is the signal of a candidate's religion and not their race that is responsible for this discrimination. All of this supports the theory that no matter their racial background, Democratic Muslim candidates for political office fare worse than their non-Muslim counterparts. Given that they may be the more disadvantaged than other minority candidates running for political office when they are Democrats, this study also raises concerns for Muslim American candidates' prospects in American democracy.