Events
Recent 
PDEL Innovation Workshop
PDEL welcomed Gareth Nellis and Claire Adida, who presented their experiences in participating in the first of EGAP's Metaketas—a coordinated approach to providing rigorous, externally valid and reproducible research results in social science. This pathbreaking effort fielded a series of seven randomized controlled trials run by 29 different scholars. Each experiment provided information about the performance of politicians immediately before an election. Nellis and Adida presented the results of the study, then dug deeper into the process of research coordination.  We concluded with a discussion of the implications for democracy promotion and the conduct of research in the social sciences.
Enabling Digital Governance and Accountability in LMIC Countries
March 11, 2019
Washington, DC
An all-day workshop organized by the World Bank, PDEL, and Vital Wave for leaders in foreign policy, technology, academia and implementation brought them together to discuss how technology can be used to improve the quality of services that the public sector can offer its citizens.
The workshop included a mix of plenary sessions, presentations, and interactive discussions supported throughout by academic evidence and implementation insights. In addition to the valuable discussions during the event, the convening also resulted in various points of follow up for potential collaboration.
Launched in 2013, the PDEL Innovation Workshop is an interdisciplinary forum in which scholars at UC San Diego share ideas about the latest advances in their respective fields and explore opportunities for joint research on the design and evaluation of programs intended to improve global well-being.
Past Events
Mobile Money, Schooling, and the Poor
PDEL Innovation Workshop
April 11, 2018 | Video
Three global leaders looked at the challenges of mobile money implementation in Benin, West Africa and the relationships between technology architecture, institutions and human behavior. Full story.
IT Innovations for Improving Governance in Afghanistan
PDEL Innovation Workshop
May 22, 2017 | Video
Mobile phones and mobile money are revolutionizing finance and governance in some of the world's poorest and most unstable countries. Joshua Blumenstock (School of Information, UC Berkeley) and Michael Callen (Rady School of Management, UC San Diego) described three projects they have been conducting in Afghanistan over the past five years that investigate ways in which development engineering can be brought to bear to improve governance:
Using mobile money to pay government salaries in order to reduce corruption and promote financial inclusion
Using cell phone data to get real-time measures of economic activity
Adapting behavioral finance innovations to mobile platforms to promote financial inclusion
Their presentation highlights the ways in which the confluence of mobile technology, financial service innovation, and big data analytics are opening up exciting new frontiers in the struggle to improve the welfare of citizens and government employees in the developing world.
Reverse Engineering Censorship in China: A Data Science Approach
PDEL Innovation Workshop
Jan. 27, 2016
The Chinese government's censorship program constitutes one of the most extensive efforts to selectively censor human communication in recorded history. In this talk, Molly Roberts and Amarnath Gupta provided an overview of their current research project that shows, paradoxically, this opaque system leaves footprints that reveal a great deal about how it functions and about the intentions of the government.
PDEL Innovation Research Workshop
Dec. 1, 2014
Professors Joshua Graff Zivin and Jennifer Burney discussed their research on measuring and understanding the impacts of pollution on human health, labor productivity and agricultural yields. Experts in their field, Burney discussed new methodologies for estimating pollutant concentrations and exposures, and Graff Zivin discussed recent insights into the pervasive impacts of air pollution.
PDEL Innovation Research Workshop
Can E-payments Fix India's Social Safety Net?
May 7, 2014
Professors Muralidharan and Niehaus discussed their research on the impact of using biometric smartcard payments in India to improve the implementation and efficiency of anti-poverty programs. This research was conducted in partnership with the government using one of the largest randomized controlled trials ever done, and is directly relevant to understanding the likely impacts of India's ambitious initiative to provide all residents with a biometric Unique ID linked to a bank account.
PDEL Innovation Research Workshop
October 24, 2013
In this public talk, Professor Ramesh Rao discussed how recent technology developments has made it possible to use smart phones as sensors for study of policy interventions in the field. He outlined the possibilities and shared some recent examples that illustrate the possibilities. Professor Clark Gibson then discussed innovative ways in which ICT can be used to detect and reduce electoral fraud.
Inaugural PDEL Innovation Research Workshop
May 13, 2013
The Policy Design and Evaluation Lab (PDEL) Innovation Research Workshop highlights recent innovations that have broader application for policy design and evaluation. Research Scientist Albert Lin discussed several ongoing efforts that explore the frontiers of data science in applications ranging from archaeology to global health. The new age of big data presents both challenges and opportunities for research across broad domains. Assistant Professor Paul Niehaus talked about the implications for the extreme poor of being electronically connected.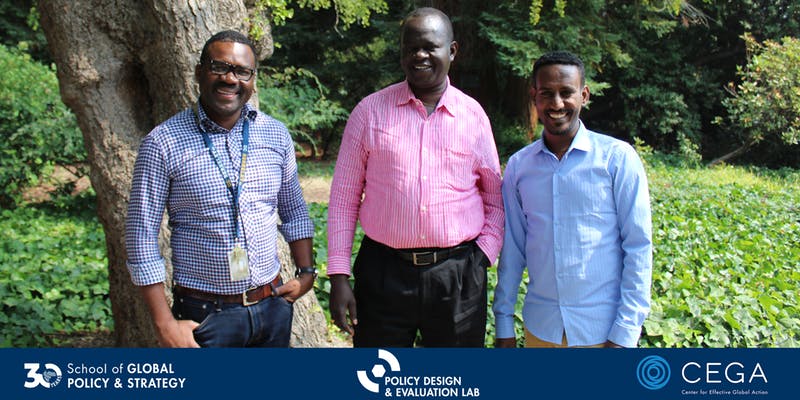 November 28, 2018
PDEL and the School of Global Policy and Strategy (GPS) partnered with the East Africa Social Science Translation Collaborative (EASST) at UC Berkeley's Center for Effective Global Action (CEGA), to convene a panel on contemporary health issues in Sub Saharan Africa.  Professors Craig McIntosh and Joshua Graff Zivin moderated the panel discussion with Visiting Fellows Werner Maokola, Getachew Mullu Kassa and Apollo Maima.  This discussion revolved around weak health systems management, neglected tropical diseases, major reproductive health issues, and the rise of non-communicable diseases. 
The goal of the annual Pacific Conference on Development Economics (PacDev) is to bring together faculty, graduate students, and practitioners to present and discuss various issues facing developing economies.
The 2015 PacDev was held March 21, 2015 at UC San Diego.
Download the full program [pdf]
Plenary Session Speakers
Paul Gertler, Li Ka Shing Professor at the Haas School of Business at UC Berkeley and Scientific Director for the Center for Effective Global Action
Alan Hubbard, Associate Professor of Biostatistics, UC Berkeley
John Tippett, Global Director of Mobile Health, Grameen Foundation
Cosponsors
Center for Effective Global Action (CEGA)
Center for Emerging and Pacific Economies (EmPac)
Partners
UC Berkeley, Stanford University, UC Davis, UC Riverside, UCLA, University of Southern California, University of San Francisco, Santa Clara University and San Francisco State University