Monitoring Competition Between Government Service Providers
Researchers: Karthik Muralidharan (UC San Diego) and Paul Niehaus (UC San Diego)
Location: India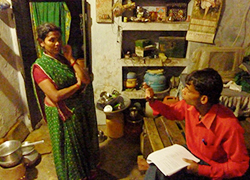 A call center is used to enhance the ability to measure the impacts of a large-scale randomized controlled trial on cash transfers and food security in Bihar, India. The Bihar Cash Transfer project (implemented through the Abdul Latif Jameel Poverty Action Lab) is currently implementing and testing the impact of replacing in-kind food transfers via the Targeted Public Distribution System (TPDS) with cash transfers in Bihar.
The call center provides a mechanism to capture in real time the impacts of competition between the status quo benefit-delivery mechanism and the cash alternative, to communicate key program information to beneficiaries (food-stamp prices, date of account opening, biometrics and account card distribution), and to coach thousands of beneficiaries through the process of opening bank accounts, which for most is their first formal account.
To  ensure that beneficiaries utilize the call center, demonstrations of the call center were incorporated into a video-based beneficiary communications drive. We believe the combination of videos and the call center will be a much more effective way to share information about the program features. A cloud-based service provider logs all incoming and outgoing calls, and will provide another useful source of information as call volume increases.
Muralidharan, Karthik, Paul Niehaus, and Sandip Sukhtankar. 2016, "Building State Capacity: Evidence from Biometric Smartcards in India." American Economic Review 106 (10) 2895–2929. DOI: 10.1257/aer.20141346.
Building State Capacity Data Set (66.29 MB)