Mobile Salary-linked Savings in Afghanistan 
Researchers: Mike Callen (UC San Diego), Josh Blumenstock, and Tarek Ghani
Location: Afghanistan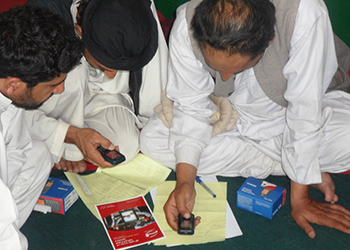 "Mobile money" has revolutionized access to financial services in Kenya, yet the impact of mobile phone-based banking has yet to be realized in other countries. For example, although Afghanistan was the second country in the world after Kenya to launch mobile money, uptake and usage remains low.
One consistently identified impediment to the widespread adoption of mobile money in Afghanistan has been the lack of an interface suited to low levels of literacy and limited experience using mobile phone-based applications.
In addition, technical issues in existing systems have often undermined public confidence in the new mobile money technology, further reducing uptake. Users need an interface that not only allows for simple transfers between individuals, but also between bank accounts and other mobile wallets. Account balances therefore must be readily available and regularly updated, the fees for transactions need to be transparent, and users need to be confident that they can easily track and access their money.
The project anticipates producing a fully functioning prototype of the bank-linked mobile wallet interface. In a country in which the share of the adult population who regularly uses a bank savings account is only 3 percent, mobile money and bank-linked mobile wallets in particular hold the potential to vastly increase financial inclusion. There is clear demand for such products; the core challenges to implementation are largely related to the engineering of the product. An interdisciplinary approach to developing and evaluating the interface will ensure both effective uptake among the very poor and the scalability of the product.
This project developed and piloted a novel mobile phone-based saving system (
M-Pasandaaz
, or M-Savings) that enables Afghan mobile subscribers to deposit and accumulate balances in a phone-based savings account. The project pilot tested these accounts on a population of 1,200 employees at Roshan, Afghanistan's largest telecommunications operator.