Gordon McCord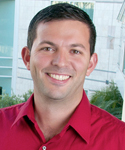 School of Global Policy and Strategy
UC San Diego MC 0519
La Jolla , California 92093-0519
Biography
Expertise and Interests
Recent Publications
Biography

Gordon McCord is an assistant teaching professor of economics at the School of Global Policy and Strategy at UC San Diego. His research often employs spatial data and spatial analysis to explore topics such as the evolving role of geography in economic development, the burden of infectious diseases such as malaria and hookworm in a changing climate, the impact of agricultural technology diffusion, and the spatial patterns of violent conflict.

In public health, his research includes financial modeling of primary health care systems in rural sub-Saharan Africa as well as creating ecology-based models to estimate infectious disease burden in populations lacking accurate health data collection systems.

McCord studied poverty traps, foreign aid and poverty reduction strategies in his position as special assistant to Jeffrey Sachs at Columbia University's Earth Institute and the United Nations Millennium Project.  More recently, he has helped advise developing country governments on integrated rural development and poverty program targeting using data-driven approaches.

McCord has a PhD in sustainable development from Columbia University. 
Expertise and Interests
Development economics
Environment
Public health
Recent Publications