Gordon McCord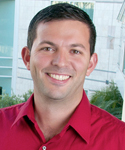 Robinson Building Complex #1321
9500 Gilman Dr
Mail Code: 0519
La Jolla , California 92093-0519
Biography
Expertise and Interests
Biography

Gordon McCord is an assistant professor of economics at the School. He has an extensive background in economics and sustainable development and works at the intersection of development economics, public health and the environment. His research focuses on understanding the changing role of geography in economic development. Examples of current projects include using weather to model the effect of malaria on child mortality and fertility behavior, understanding the role of geography in Chinese city growth, and modeling the role of physical geography on the timing of economic takeoff around the world.

In public health, his research includes financial modeling of primary health care systems in sub-Saharan Africa as well as modeling the effects of climate change on the burden of malaria.

McCord studied poverty traps, foreign aid and poverty reduction strategies in his position as special assistant to Jeffrey Sachs at Columbia University's Earth Institute and the United Nations Millennium Project. 
Expertise and Interests
Development economics
Environment
Public health