Prashant Bharadwaj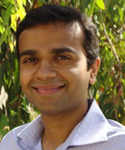 (858) 534-7040
Department of Economics
UC San Diego MC 0508
La Jolla , California 92093-0508
Biography
Expertise and Interests
PDEL Activities
Recent Publications
Biography

Prashanat Bharadwaj is an associate professor of economices at the University of California San Diego. He received his PhD from Yale University and is affiliated with the Bureau for Research and Economic Analysis of Development at Duke University and also the Center for Effective Global Action at the University of California Berkley. His research interests are in development and labor economics, focusing on the interactions between early childhood health, gender, and education.
Expertise and Interests
Fertility and labor markets
Health impacts of air pollution
PDEL Activities
Recent Publications

Bharadwaj, Prashant, Matthew Gibson, Joshua Graff Zivin, and Christopher Neilson. 2017. Gray Matters: Fetal Pollution Exposure and Human Capital Formation. Journal of the Association of Environmental and Resource Economists. April. http://www.journals.uchicago.edu/doi/abs/10.1086/691591.

Bharadwaj, Prashant, Mallesh Pai, and Agne Suziedelyte. 2017. Mental Health Stigma. Economics Letters 159:57–60. https://doi.org/10.1016/j.econlet.2017.06.028.

Bharadwaj, Prashant, Petter Lundborg, and Dan-Olof Rooth. 2017. Birth Weight in the Long Run (with Petter Lundborg and Dan-Olof Rooth). Journal of Human Resources  0715-7235R. Published ahead of print January 5. doi: 10.3368/jhr.53.1.0715-7235R.

Bharadwaj, Prashant, Giacomo De Giorgi, David Hansen and Christopher Neilson. 2016. The Gender Gap in Mathematics: Evidence from Chile. Economic Development and Cultural Change 65 (1): 141–66.

Bharadwaj, Prashant, Joshua Graff Zivin, Jamie Mullins, and Matthew Neidell. 2016. Early Life Exposure to the Great Smog of 1952 and the Development of Asthma. American Journal of Respiratory and Critical Care Medicine 194, No. 12, Dec. 15. https://doi.org/10.1164/rccm.201603-0451OC.      
Working Papers
The Role of Information and Cash Transfers on Early Childhood Development: Evidence from Nepal (with Michael Levere and Gayatri Acharya). May 2016.