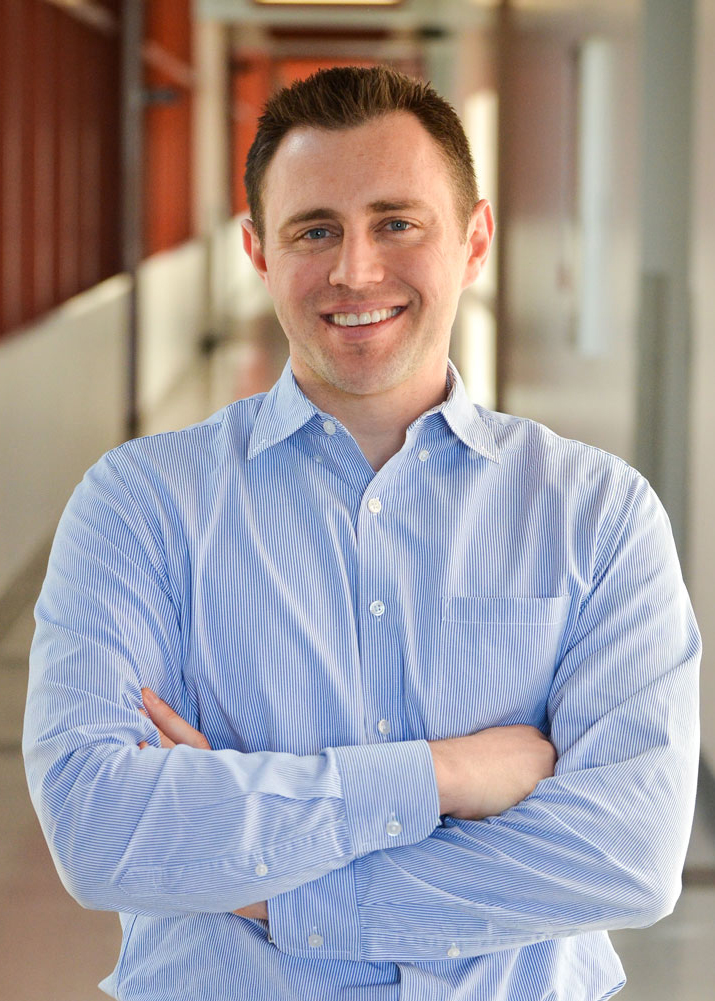 Jacobs School of Engineering
UC San Diego MC 0407

Biography
Expertise & Interests
PDEL Activities
Recent Publications
Biography

Drew Hall is an assistant professor of electrical and computer engineering at the Jacobs School of Engineering, UC San Diego. He received a BS in computer engineering with honors from the University of Nevada, Las Vegas in 2005 along with MS and PhD degrees in electrical engineering from Stanford University in 2008 and 2012, respectively. In the past, he has held internship positions with General Electric, Bentley Nevada Corporation, and National Semiconductor Corporation, where he worked on low-power, precision analog circuit design. He worked as a research scientist at the Intel Corporation from 2011 to 2013 in the integrated biosensors laboratory. 

Hall's research interests include bioelectronics, biosensors, analog circuit design, medical electronics, and sensor interfaces. Hall was the recipient of the 2011 Analog Devices Outstanding Designer Award, and took 1st place in both the inaugural international IEEE Change the World Competition and the BME-IDEA invention competition. He received the Hellman Fellowship award in 2014, the ECE undergraduate teaching award in 2014, and the prestigious NSF CAREER award. 
Expertise & Interests
Bioelectronics

Biosensors

Analog circuit design

Medical electronics

Sensor interfaces
PDEL Activities
Recent Publications

Carter, C., K. Akrami K, D. Hall, D. Smith, and E. Aronoff-Spencer. 2017. "Lyophilized Visually Readable Loop-Mediated Isothermal Reverse Transcriptase Nucleic Acid Amplification Test for Detection Ebola Zaire RNA." J Virol Methods 244:32–38. PMID: 28242293.

Huang, C.C., X. Zhou, and D. Hall. 2017. "Giant Magnetoresistive Biosensors for Time-Domain Magnetorelaxometry: A Theoretical Investigation and Progress toward an Immunoassay." Sci Rep. 7:45493. PMID: 28374833.

Jiang, H., A. Sun, A.G. Venkatesh, and D. Hall. 2017. "An Audio Jack-Based Electrochemical Impedance Spectroscopy Sensor for Point-of-Care Diagnostics." IEEE Sens J.  17 (3): 589–97. PMID: 28943809.

Sun, A., T. Phelps, C. Yao, A. G. Venkatesh, D. Conrad, and D. Hall. 2017. "Smartphone-Based pH Sensor for Home Monitoring of Pulmonary Exacerbations in Cystic Fibrosis." Sensors (Basel) 17 (6). PMID: 28556804.

Zhou, X., C.C. Huang, and D. Hall. 2017. "Giant Magnetoresistive Biosensor Array for Detecting Magnetorelaxation." IEEE Trans Biomed Circuits Syst. 11 (4):755–64. PMID: 28749344.

Wang, Po-Han Peter, Haowei Jiang, Li Gao, Pinar Sen, Young-Han Kim, Gabriel M. Rebeiz, Patrick P. Mercier, and Drew A. Hall. 2018. "A Near-Zero-Power Wake-up Receiver Achieving −69 dBm Sensitivity." Journal of Solid-State Circuits 53 (6): 1640–52. DOI: 10.1109/JSSC.2018.2815658.