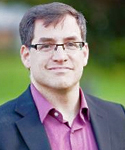 Department of Medicine
UC San Diego MC 0507

Biography
Expertise and Interests
Selected Publications
Biography

Jay Silverman, PhD, is director of research for the Center on Gender Equity and Health and a professor of medicine and global public health at UC San Diego. He is a leading global researcher on understanding and preventing gender-based violence against adolescent and adult women (e.g., intimate partner violence, sexual violence, and sex trafficking). Dr. Silverman has led multiple major studies of gender-based violence and its effects on the health of women and their children, with a focus on gendered effects on the girl child. His current research revolves around structural interventions to prevent HIV risk and sex trafficking along the US-Mexican border, building the first reliable, population-based data on the prevalence of sex trafficking in Central America in collaboration with the Centers for Disease Control and Prevention, as well as designing and evaluating a program to address chronic threats to adolescent girls' sexual safety in Washington, DC.
Expertise and Interests
Gender-based violence prevention
Sex trafficking
HIV risk
Selected Publications

Silverman, J. G. 2010. "Key to Prevention of HIV in Women: Reduce Gender-based Violence." Lancet 376 (9734): 6–7.

Silverman, J. G., M. R. Decker, J. Gupta, N. Kapur, A. Raj, and R. T. Naved. 2009. "Does Maternal Intimate Partner Violence Victimization Affect Child Morbidity? Evidence from a National Bangladeshi Sample." Archives of Pediatrics and Adolescent Medicine 163:700–705.

Silverman, J. G., M. R. Decker, A. Raj, D. M. Cheng, H. L. McCauley, K. Wirth, B. Donta, and N. Saggurti. 2011. "Gender-Based Disparities in Infant and Child Mortality Based on Maternal Exposure to Husband Violence: The Heavy Burden Borne by Indian Girls." Archives of Pediatrics and Adolescent Medicine 165 (1): 22–27. doi: 10.1001/archpediatrics.2010.261.

Silverman, J. G., J. Gupta, M. R. Decker, N. Kapur, and A. Raj. 2007. "Intimate Partner Violence, Unwanted Pregnancy, and Pregnancy Termination among a National Sample of Bangladeshi Women." BJOG: An International Journal of Obstetrics and Gynecology 114:1246–52.

Silverman, J. G., M. R. Decker, S. Niranjan, D. Balaiah, and A. Raj. 2008. Intimate Partner Violence and HIV Infection among Married Indian Women. Journal of the American Medical Association (JAMA) 2008; 300:703–19.