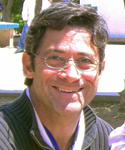 Department of Medicine
UC San Diego MC 0507

Biography
Expertise and Interests
PDEL Activities
Recent Publications
Biography

Richard S. Garfein is a professor in the Division of Global Public Health, Department of Medicine, UC San Diego. He trained as an infectious disease epidemiologist, first earning an MPH from the San Diego State University School of Public Health in 1989 and then a PhD from Johns Hopkins University School of Hygiene and Public Health in 1997.

Between his graduate training and joining the UC San Diego faculty in 2005, Dr. Garfein served as an epidemic intelligence service officer in the Division of Viral Hepatitis and a senior staff epidemiologist in the Division of HIV/AIDS Prevention at the Centers for Disease Control and Prevention.

Garfein's research interests involve identifying risk factors for and developing interventions to prevent infectious diseases associated with substance abuse. While at the CDC, he investigated outbreaks of hepatitis B and C virus infection and led observational and interventional studies of HIV and viral hepatitis among injection drug users in the United States and abroad. Dr. Garfein has conducted studies describing HIV and HCV risk among IDUs and other marginalized populations in the US/Mexico border region. He is also conducting research on the behavioral determinates of acute HIV infection and public health policies related to HIV testing and non-prescription syringe sales.

Dr. Garfein has recently expanded the scope of his research to include describing tuberculosis among vulnerable populations, evaluating molecular assays for rapid detection of drug resistant TB, and developing mobile phone based interventions for improving patient adherence to anti-TB treatment. His international research and consulting activities have included Mexico, Russia, Thailand, Taiwan, Okinawa, Puerto Rico, Malawi, Sierra Leone and Kyrgyzstan.
Expertise and Interests
HIV/AIDs prevention
Infectious diseases
Substance abuse
Tuberculosis
PDEL Activities
Recent Publications

Baird, S. J., R. S. Garfein, C. T. McIntosh, and B. Özler. 2012. "Effect of a Cash Transfer Programme for Schooling on Prevalence of HIV and Herpes simplexvType 2 in Malawi: a Cluster Randomized Trial." Lancet. doi:10.1016/S0140-6736(11)61709-1. 

Do, D., R. S. Garfein, J. Cuevas-Mota, K. Collins, and L. Liu. 2019. "Change in Patient Comfort Using Mobile Phones Following the Use of an App to Monitor Tuberculosis Treatment Adherence: Longitudinal Study." JMIR Mhealth Uhealth 7 (2): e11638. PMID: 30707103.

Falzon, D., Timimi H, Kurosinski P, Migliori GB, Van Gemert W, Denkinger C, Isaacs C, Story A, Garfein RS, do Valle Bastos LG, Yassin MA, V. Rusovich, A. Skrahina, Van Hoi Le, T. Broger, I. Abubakar, A. Hayward, Thomas BV, Temesgen Z, Quraishi S, von Delft D, Jaramillo E, Weyer K, and M. C. Raviglione. 2016. "Digital Health for the End TB Strategy: Developing Priority Products and Making Them Work." European Respiratory Journal 48 (1): 29–45.

Garfein, R. S., Catanzaro DG, T. C. Rodwell, E. Avalos, R. L. Jackson, J. Kaping, H. Evasco, C. Rodrigues, V. Crudu, Lin SY, E. Groessl, N. Hillery, A. Trollip, T. Ganiats, T. C. Victor, K. Eisenach, F. Valafar, J. Channick, Qian L0, and A. Catanzaro. 2015. "Phenotypic and Genotypic Diversity in a Multinational Sample of Drug-Resistant Mycobacterium tuberculosis Isolates." International Journal of Tuberculosis and Lung Disease 19 (4): 420–27. PMCID: PMC4494864.

Garfein, R. S., L. Liu, J. Cuevas-Mota, K. Collins, F. Muñoz, D. G. Catanzaro, K. Moser, J. Higashi, T. Al-Samarrai, P. Kriner, J. Vaishampayan, J. Cepeda, M. A. Bulterys, N. K. Martin, P. Rios, and F. Raab. 2018. "Tuberculosis Treatment Monitoring by Video Directly Observed Therapy in 5 Health Districts, California, USA." Emerg Infect Dis. 24 (10):1806–15. PMID: 30226154.

Guise, A., J. Melo, M. L. Mittal, C. Rafful, J. Cuevas-Mota, P. Davidson, R. S. Garfein, and D. Werb. 2018. "A Fragmented Code: The Moral and Structural Context for Providing Assistance with Injection Drug Use Initiation in San Diego, USA." Int J Drug Policy 55:51–60. PMID: 29524733.

Rafful, C., S. Jain, X. Sun, S. A. Strathdee, R. S. Garfein, J. Cuevas-Mota, C. Magis-Rodríguez, L. R. Smith, and D. Werb. 2018. "Identification of a Syndemic of Blood-Borne Disease Transmission and Injection Drug Use Initiation at the US-Mexico Border." J Acquir Immune Defic Syndr. 79 (5): 559–65. PMID: 30222661.

Robertson, A., R. S. Garfein, K. D. Wagner, S. R. Mehta, C. Magis-Rodriguez, J. Cuevas-Mota, P.G Moreno-Zuniga, and S. A. Strathdee. 2014. "Evaluating the Impact of Mexico's Drug Policy Reforms on People who Inject Drugs in Tijuana, B.C., Mexico, and San Diego, CA United States: A Binational Mixed Methods Research Agenda." Harm Reduction Journal 11:4. PMCID: PMC3944401

Story, A., R. S. Garfein, A. Hayward, V. Rusovich,  A. Dadu, V. Soltan, A. Oprunenco, K. Collins, R. Sarin, S. Quraishi, M. Sharma, G. B. Migliori, M. Varadarajan, and D. Falzon. 2016. "Monitoring Therapy Compliance of Tuberculosis Patients by Using Video-Enabled Electronic Devices." Emerging Infectious Diseases 22 (3): 538–40.